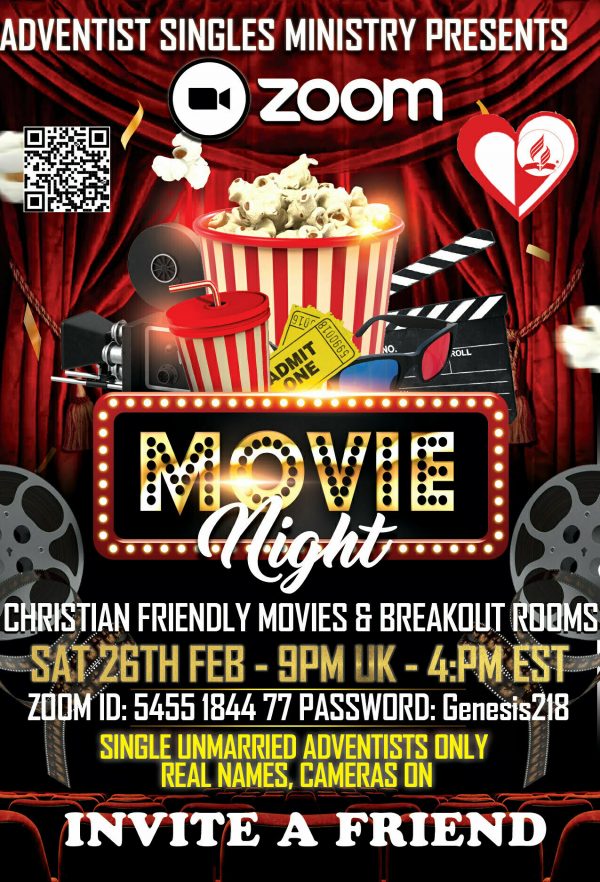 Event details
Saturday | February 26, 2022 to Saturday | February 6, 2027
9:00 pm
Zoom: 5455184477 Pass: Genesis218
Saturday the 26th February
Single Adventists Social. Christian Movie night and Zoom Breakout Rooms.
POPCORN..CHECK.. SNACKS….CHECK!!! It's one of the Favourite nights of the month! On Saturday the 26th February Christian MOVIE NIGHT
Join us as we watch back to back Inspiring Christian movies!. You don't want to miss the selection we have lined up!. There will be a ten minute break between movies to discuss and stock up on more snacks! Breakout rooms will also be open for chilled chat!. Check the attached flyer for more info!
9pm UK TIME 4PM EST. 10PM AFRICA TIME.
INVITE FRIENDS TOO!!!
Love SASS
#staysassy
Zoom: 5455184477
PASS: Genesis218
*Register for this FREE event at* http://adventistsinglesevents.com/register/
*Thanks for the donation offers* https://adventistsinglesevents.com/donate/